So, we had all this snow yesterday. Mr WithaY came home from work at lunchtime, because apparently the whole site was shut down. I was working at home, as I do on a Friday.
We were both home. With a lot of snow.
What would you have done with a half an hour of daylight and some excess energy from having been stuck inside for days on end?
We had a cup of tea and a chat. I went and did some more work. Mr WithaY read a bit. We had another cup of tea.
Then we did this: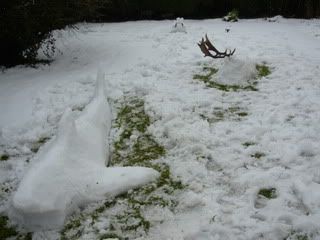 We made a snow menagerie!
It consisted of:
A snow deer, at rest.
Look! It even has a tail!
A snow Great White Shark. Mr WithaY was most emphatic about the species. Obviously it's only a small one.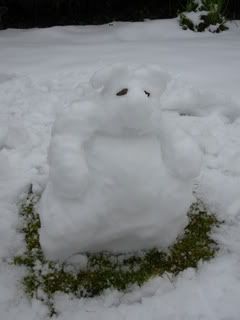 A snow bear. It looks as though it ought to be wearing shades and a Blues Brothers porkpie hat, somehow.
Oh yes. We also saw our single solitary crocus, bravely peeking out from the deep snow, defying all that the Winter could throw at it.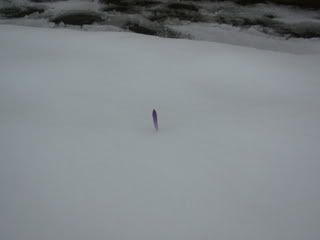 All, that is, barring Mr WithaY's size 11 Wellington boots.
As my Youngest Sis commented when she saw some of the photos, we have way too much time on our hands.