So, I've been to Bath today.
Look:
We thought about going to have a giant teacake there but we ate our own weight in chicken at Wagamama's for lunch, so were too full on the way back to the car. Maybe next time.
It was rainy and warm, a nightmare combination, because you're wearing a coat to stop you getting wet, then you're far too hot. Because you're wearing a big raincoat.
Why aren't scientists fixing stuff like that? Tch.
Bath is having some sort of
pigfest
. We spotted several.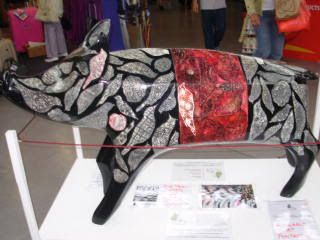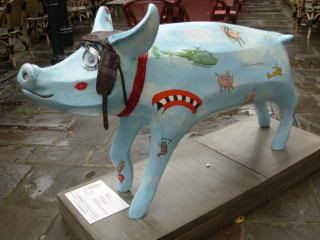 I particularly like "Piggles" at the end there.
The one with the bandage had a little sign saying "I have been to hospital, please DO NOT sit on me." Maybe I was seeing things, but he had a worried look in his eye.
I have a lovely picture in my head of 25 foreign* tourists all piling on his back and trying to take an amusing photo, with hilarious consequences.
Other news: Remember my glorious raffle victory from the weekend? Yeah you do. When I played my guitar with the band. Did I mention that already?
Well, check this out, all you sad unlucky non-raffle winners:
How great is that, eh?
Also. Been shopping for anti-mole hardware.
The problem: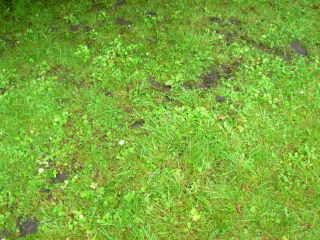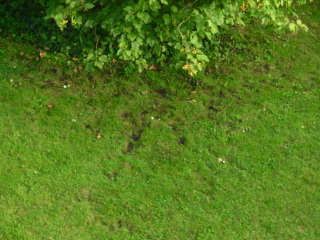 Bastards have dug trenches all over the front garden, and are now making mole hills. So, I took Eldest Niece into town to the ironmongers** where we both eyed up the handsome young man behind the counter while I asked his advice. I bought this:
It's been installed:
Having a top-of-the-range sonic disrupter in the garden hasn't stopped Mr WithaY jabbing the ground with his longbow arrow, muttering furiously.
Tomorrow we're off to Salisbury, to the cinema if we can all agree on a film. I want to see the X Files, but as I am the only geek in the house, I may get outvoted.
We are definitely going to the Thai restaurant to eat, and I expect we'll look at eye makeup for a few hours. Eldest Niece is a bit of an expert. I haven't used so much makeup since I was testing the new camo range at the AGC open day.
Oh yes. Bought some hair straighteners. Managed not to set my hair alight. A proud day. My hair looked pretty much the same, but lacking the interesting waves and curls which make it look a bit special. So. Money well spent there.
I am going to give Eldest Niece ringlets*** at some point. What larks. It's fun being a girl. I forget sometimes.
*Italian, probably
**She's having the time of her life.
***She asked me to, it's not a punishment.