So, guess what I have been doing? Apart from watching Mr WithaY glaring at the mole tussocks, I mean.
Here's a clue: I lost some money and got very cold.
Yes! We had a night at the races! It was an interesting experience. Salisbury racecourse, an evening meeting. We took a minibus from the pub, arrived at the course and cracked open the Champagne. Mr WithaY managed to hit someone's car with a Champagne cork
just
as they were getting out of it, which was impressive. Luckily they either didn't notice or decided not to come over and tell us all off.
Salisbury racecourse must be unique, in that you can't actually see any of the race apart from about the last 15 seconds.
They have rectified this by putting up a huge screen so you can watch it on TV. While you stand in the rain.
And that bit of the track is obscured by the many hundreds of bookies, who take your money and then laugh as your horse (whichever one you pick, even if six of you all pick different ones, which is odd) comes in last.
We bet at the Tote. We lost. We bet on course. We lost.
We tried pretending we knew about the form, the history of each horse, where it had travelled from, the state of the track, the Jockeys' personal preferences, anything. We still lost. Here is a picture of us all pretending we know anything about racing.
Here is a picture, an exciting action shot, of the race. My horse is far away, off the right hand edge of the photo, sauntering down the final furlong, probably texting his mates and checking his iPod. Bastard.
I bet on one horse, the bloody thing actually fell over in the paddock before it even got to the start of the race. To be fair, it eventually came in second and I won £7.50 but as I had put down a tenner I was still out of pocket. How does that work? Even one of our smart maths teacher mates had to have Odds explained to her by the bookie.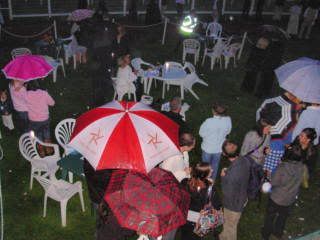 It rained a bit. But there was a Queen tribute band. It was truly bizarre.
Other news: Been to see Mr WithaY's dad in hospital, and he is a bit more comfortable, so that's encouraging.
Went on to Salisbury. Did did some shopping and bought a few DVDs*, had a very, very late lunch in Wagamama's, somewhere I have not been before, and ate soup with noodles in and chicken dumplings.
Ooh yes. I bought a huge stack of bargain strawberries in Salisbury market, just as it was closing and am going to make jam tomorrow. Never made stawberry jam before. I might have to join the WI if it turns out ok.
*Tonight we have mostly been watching Blades of Glory, which was entertaining.