Hey, guess what kind of local produce-related event I went to today?
Apple Day! Hurrah!
We
have
been having fun, here in Wiltshire.
Our visitors arrived safe and sound on Friday, having crossed the Atlantic in about 5 hours. They had a monster tailwind and apparently were doing about 700mph. Their plane got to Heathrow by 5am, and had to circle for an hour before they were allowed to land.
Still, they managed the train journey to Salisbury and were met by Mr WithaY, and were safe and sound at ours by 11am. Marvellous.
And since then we've been for a walk round the village, to the local farm shop, to the Olives et Al food show at Sturminster Newton (mmmm...olives), to Tescos, and to Apple Day.
And we've had a dinner party and a party party. Sooo busy.
No wonder I'm knackered.
Back to work tomorrow, while Mr WithaY and our guests fly off to the South of France for a few days. Gah.
We were given a new toilet seat as a gift by some of our demented neighbours. They refused point blank to take it home with them again at the end of the evening. So, I now have plans. Mwahahahahahaaaaaaaaaaaaa.
Anyway, Apple Day. I took pictures.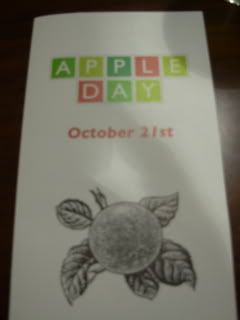 There were many, many different apple varieties. This room smelled absolutely lovely.
There were apples that sounded like a grumble:
Apples that sounded like porn films:
And apples that were just gorgeous:
We also met some pigs:
Which reminds me. Roast pork and apple sauce for lunch. Bloody excellent.